JODI's ongoing performance project, The Folksomy Project, takes YouTube as source material, with the artists utilizing custom software to select and manipulate user-generated videos from the popular website. Armed with a virtual "juke-box" of video clips, JODI focuses on YouTube users love-hate relationship with new technologies, from iPod love ballads to laptop smashing. As with much of JODI's work, The Folksomy Project is a study in how online systems (dis)function.

you-talking-to-me-you-talking-to-me-you-talking-to-me.com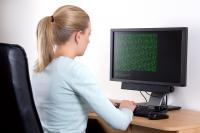 Operation Troll the NSA ain't got nothin' on this cypherpunk application. Carlos Sáez and Anthony Antonellis invite you to fracture your online presence and fry the eyes of Big Brother by oversharing a random sampling of trigger words via email or via social media.