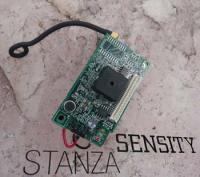 A series of artworks based on sensing the environment. The results are the visualisation and sonification of real time spaces.
Sensity artworks are made from the data that is collected across the urban and environment infrastructure. The sensors interpret the micro-data of the interactive city. The output from the sensors display the "emotional" state of the city online in real time and the information is also used to create offline installations and sculptural artworks.
Several artworks have been made, and several new physical cities are in development for 2009.
These artworks represent the movement of people, pollution in the air, the vibrations and sounds of buildings. They are in effect emergent social sculptures visualizing the emotional state of the city.

launch Sensity by Stanza.